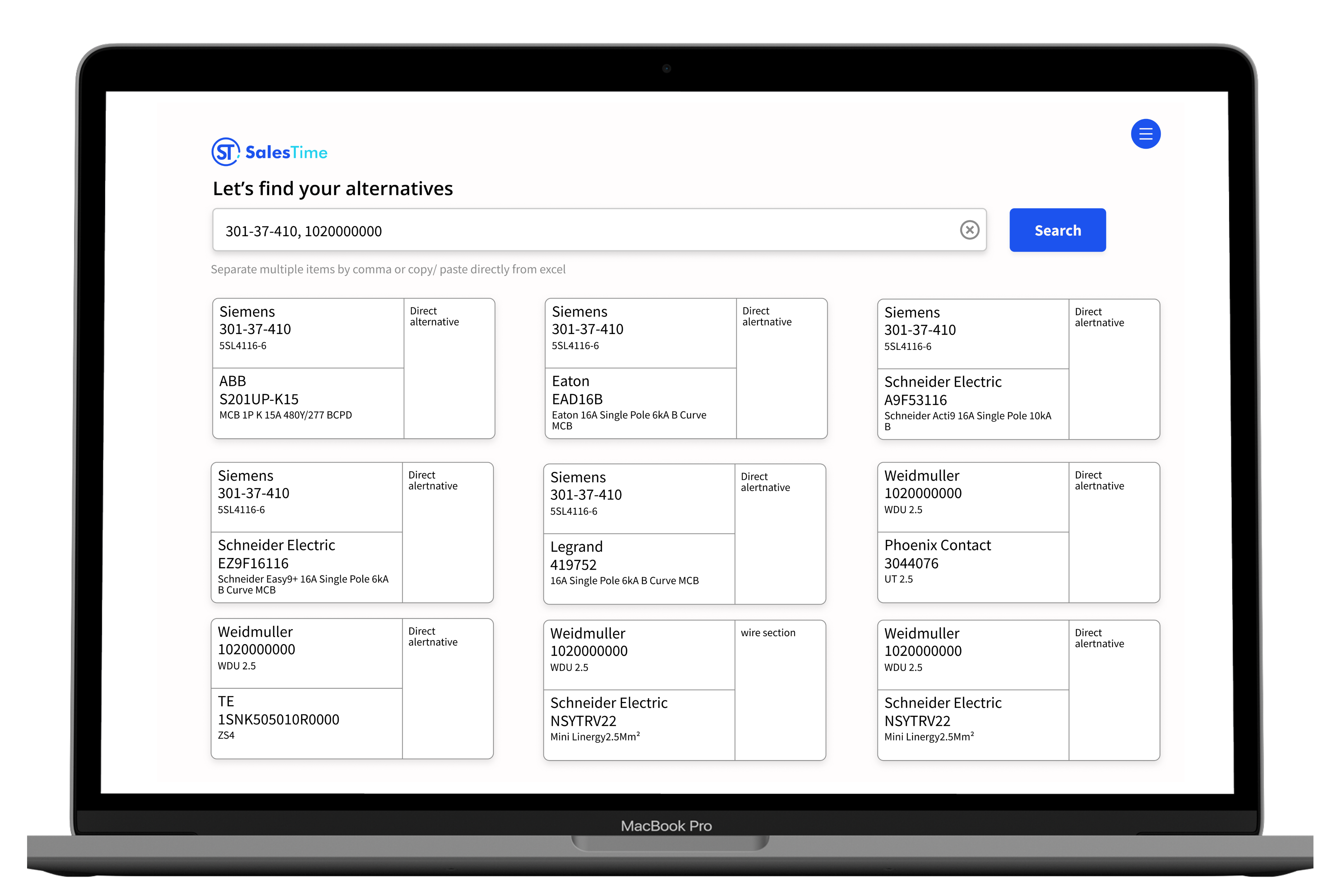 Stay ahead of your competition!
At Sales Time, we empower Electrical Sales Engineers and Technical Support professionals to respond promptly to customer inquiries.
Alternative search engine for electrical products
Our cross-reference database includes an extensive list of over 81 global manufacturers, and below, you can find a selection of some of them.
Are you a multi-brand distributor of electrical products?
Fill our online form and find out how we can speed up your sales process - completely free!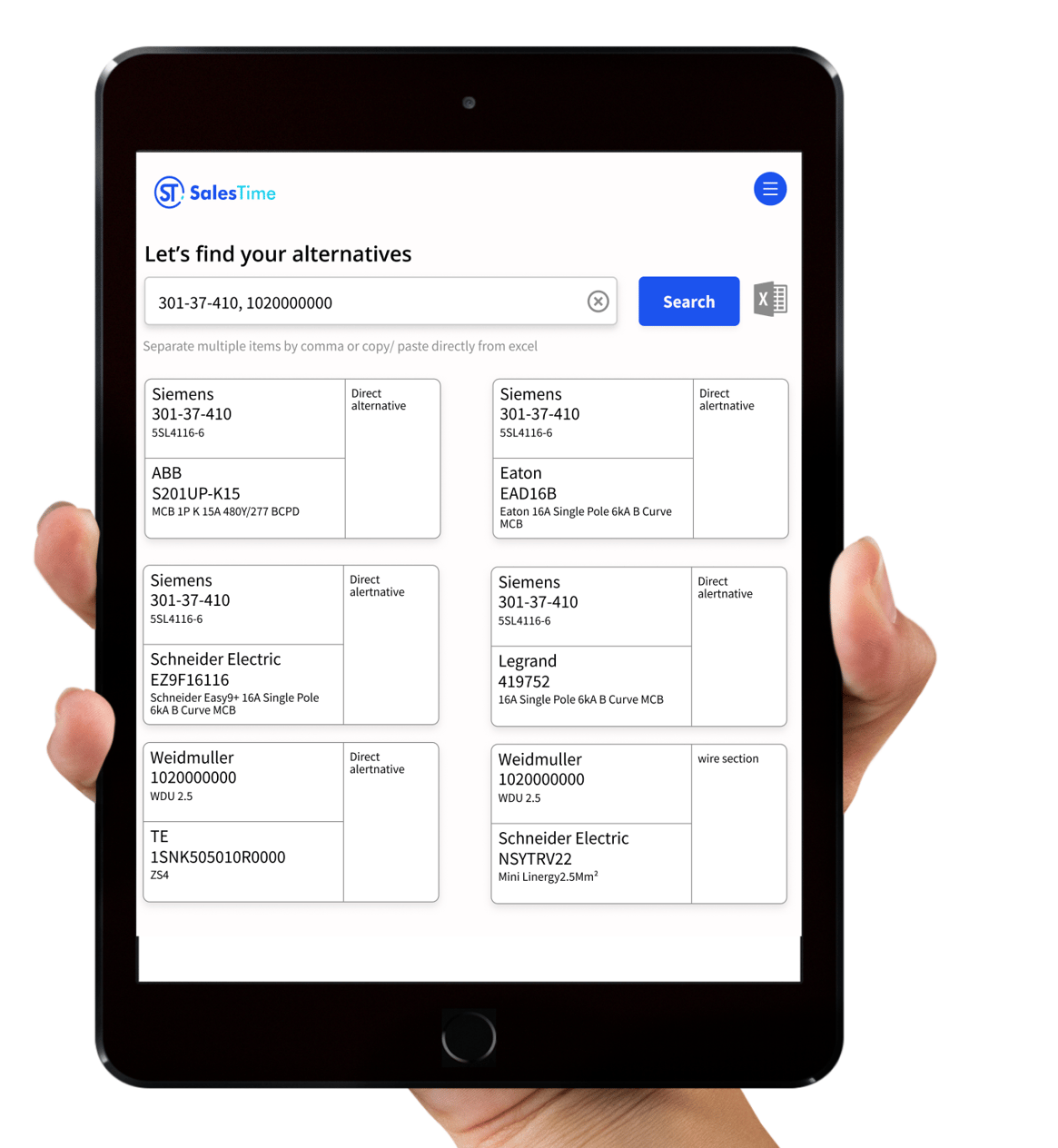 The tool that your colleagues deserve!
More than 80.000 articles in database, from 81 top manufacturers

Weekly updates of database, in line with your specific searches or market needs

Multi-brand unbiased data base in one platform
Easy to use web application
Dashboard
Type your part numbers or copy/paste them from excel.
For multiple articles you can download excel file with results.
Searches
Unlimited number of searches for each user registered.
Up to 50 articles searched at once.
Presets
Each company is selecting their preferred manufacturer, from our database.
Metrics
Usage and success rate reports, can be sent on monthly basis.
Have a look and convince yourself how is working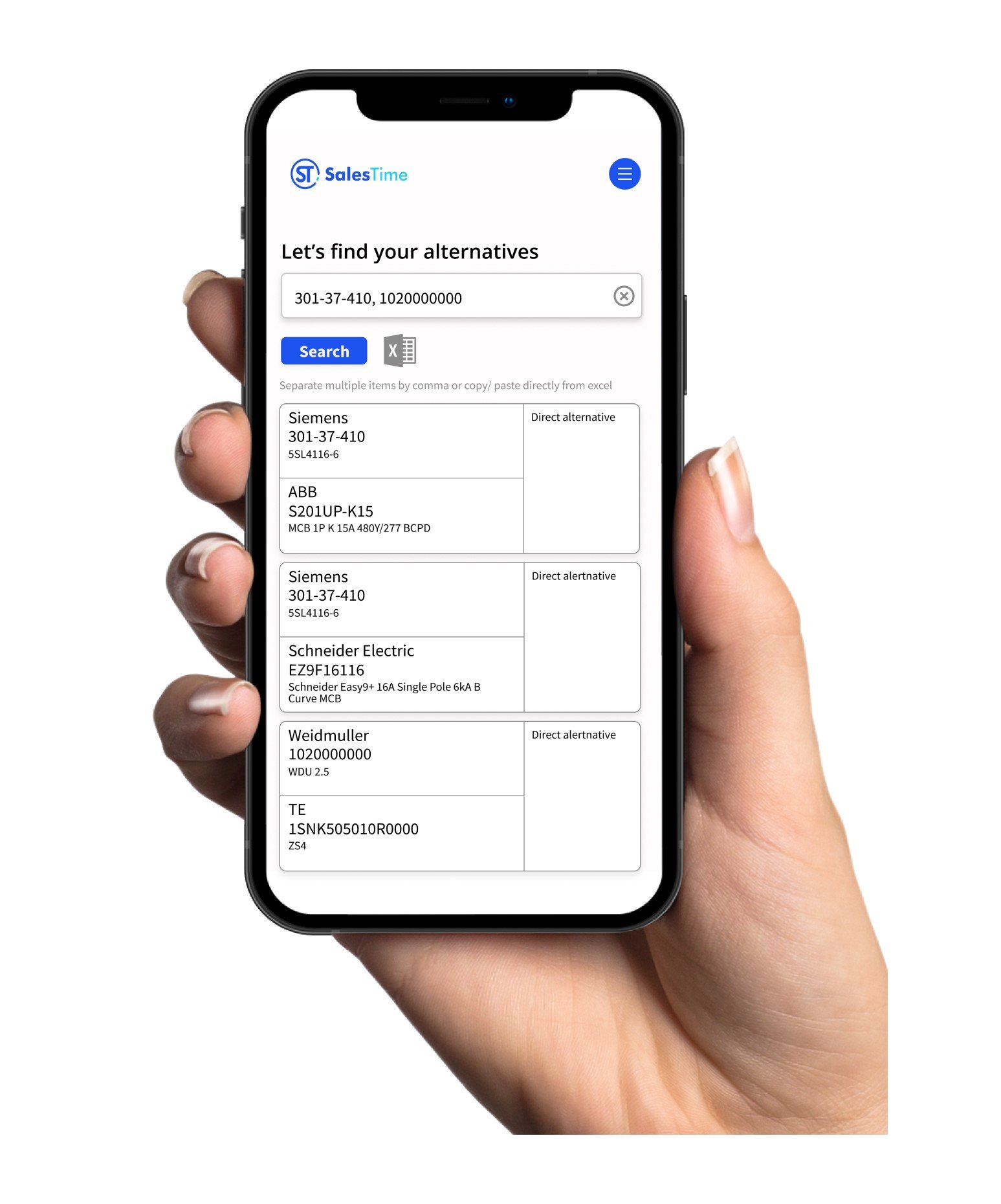 Development of the Sales Time platform was driven by several key objectives:
Empower sales engineers to concentrate on customer relationships and prospects rather than boring, repetitive tasks.
Enable technical support teams to prioritize problem-solving and value-added activities over the monotonous task of replacing competitors.
Safeguard your company's invaluable knowledge when experienced team members retire or decide to depart.
Position your company's infrastructure for the future of hybrid sales.
Elevate your website and e-shop with enhanced product knowledge and automation to maximize cross-selling capabilities.
Our primary aim is to equip electrical sales teams with technology, allowing them to remain dedicated to meeting customers' needs.
What our Customers say about us
"During my daily tasks I have to find suitable items for our partners, which suits their requirement and with this tool I am able to speed up and simplify this process partially. Their follow-up is exemplary."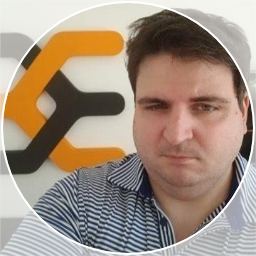 Istvan Varga - Weidmüller Kft.
Internal Technical Support & Cabinet Consulting
"With a daily growing database, this tool is a great time saver for all users. Experienced and a little less experienced."

T.M.
Product Specialist
"Replacing competitors products is made easy with Sales Time, which give us more time to focus on growing our business."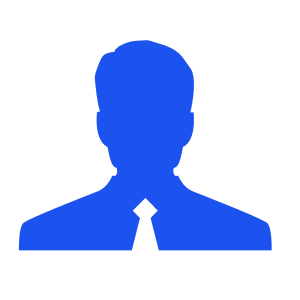 Alexandros Manavidis - GA Solution
Owner
"Using this tool is making competitors' replacement convenient, allowing to discover faster own and competitor products. With each new search, they adjust database according to our market needs."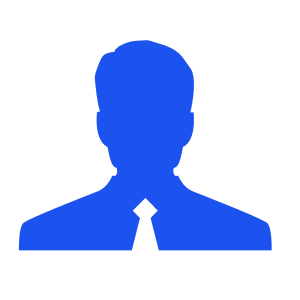 Marko Nikolic – Weidmueller Serbia
Market Development Engineer